The bands I move past today will probably get me flamed a bit, but I can take it...
Deadmau5
is a DJ, for me at least, that seems to be more popular than he is good, although I certainly don't hate him. No, I save the hate for... well, you'll see some good expletive combinations during Saturday's rundown (I'm looking your way, Tiesto)...
Vampire Weekend
however, does get a big ol' hairy hate wiener stuffed up their collective cornhole. I put it quite excellently
a couple years back
, but I'll just paraphrase myself. If your band makes Paul Simon's little Jewy whiteguy take on African music sound authentic by comparison, you suck....
And I know a lot of people are into
Them Crooked Vultures
because the guys in this band were in other bands or at least their dads were, but let's be real here. Dave Grohl will sit in with a Junior High stage band for a bowl of soup at this point, so I don't really consider anything he does to be all that special anymore. And Josh Homme isn't far behind. I'm shocked Will.I.Am. isn't in this band to be honest. But, giving credit where credit is due, at least they're not doing the National Anthem for a bowl game with Josh Freaking Groban like Flea... for the love of fuck, Flea, WHAT HAVE YOU BECOME?!?!? A TICK?!! A GNAT?!?! A CHIGGER?!?!
LCD Soundsystem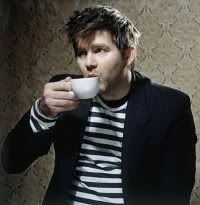 Who they are:
Mr. James Murphy, winner of the annual "Rock Star I'd Confuse For A Plumber Or Maybe A Guy Who Works At Home Depot" and whatever band of scurrilous scallywags he currently has in tow.
What they sound like:
He's the man who brought the Dance/Punk hybrid of '70s New York City back into style... and the one that approximately 8 million other bands ape to often dubious results. But, if your on your computer box reading an internet page-amathing about music, I don't need to tell you what LCD sounds like and you already have most of it anyway, so here's a remix courtesy of Brits
Padded Cell
from the longform Nike piece LCD did a couple years back...
LCD Soundsystem - 45:33 (Padded Cell Remix) (ysi)

What I think:
Although I've heard LCD live can be a bit hit-or-miss, the time I saw them at Coachella 4(?) years back, they were fucking amazing. Of course, I was fully off my tits at the time. But hey, if you're not off your tits at Coachella, you're doing it wrong...
And the Friday wrap-up finishes up tomorrow.