The Oscars generally don't get me nearly as riled up as the Grammys do, thank goodness. Especially when they do things like give
District 9
a nomination for Best Picture. If you haven't seen that flick, do it now. It's the best movie I saw last year and probably one of the best Sci-Fi movies EVAR. It's genius, I tells ya, so watch that shit. I'll wait...
...
...
Fuckin' awesome movie, eh? Told ya. Anyhoo, I had too much things to do yesterday to get around to posting, so it's a Twofer Tuesday on Wednesday... but first...
I'm somewhat ashamed to admit that I really know fuck-all about
Grace Jones
except that she was awesome in
Conan the Destroyer
. Never ever got into her music, so I can't even offer an opinion... but I'd most likely stop by just out of curiosity.
I know even less about
Passion Pit
, although people seem to like them. I'm not terribly impressed and don't see them as being a band anyone is going to be talking about a couple years from now, so I'll pass...
And then we have
Grizzly Bear
, who I know is probably a band I'm supposed to appreciate... and I've tried somewhat sincerely... but they just don't get more than a "meh" outta me.
My post on them from '07
is hee-larious, by the way. I KILL ME!
And once again I find myself recommending '80s bands, because I am old and crotchety...
The Specials
Who they are:
The Kings of British Ska!
What they sound like:
The sound like Ska, and I'm not talking about the knucklehead kind of stuff you hear on KROQ... I'm talking about the real deal... Vespas and Two-Tone all the way...
The Specials - Nite Klub (ysi)

What I think:
Kudos to these guys for not going down the road that some of their contemporaries have and plowing on like a pathetic self-cover band, playing Dollar Beer Night at the local horse track (I'm looking in your direction, English Beat). Here's the current version, and maybe they're to old to skank but it still sounds good, plus they have their dignity...
Being a Ska fan, The Specials are legends not to be missed. Actually, today's other band pretty much fits that same description...
Public Image Limited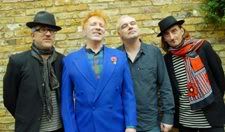 Who they are:
Mr. Jonathan Q. Rotten, ESQ., the surly old cur, and his equally craggy cohorts.
What they sound like:
Not being hip to the scene when these guys first started, I wonder what the reaction was to hearing that Johnny Rotten had started a dance band. Did people accuse him of selling out? Because if they did I'm sure Johnny told them all to fuck themselves proper...
Public Image Limited - Seattle (ysi)

What I think:
You bet yer ass I wanna see PiL live... if only for whatever batshit-crazy screeds Johnny goes off on between songs. Plus they still rock kinda hard...
Plus wouldn't it be cool to have Johnny Rotten as your crazy old uncle? Either him or Ozzy... anyhoo, thus ends '80s night at Coachella. We'll get back to the 21st Century tomorrow...