So Joe Buck just showed up at my office for some reason or another... I made him do some play-by-play while I made copies. Okay, that's a lie... but I wanted to...
I guess some of you might be surprised for me to give the thumbs down to SF House producer
Kaskade
. I mean, the dude was a fixture at OM Records for a while and we love the OM. But have you heard what he's putting out lately? He's gone the way of the fromage... stinky-style...
Speaking of stinky...
Coheed & Cambria
's Prog Rock bollocks seem to have gotten even more bollock-y since the last time I heard them. Which is
pretty freakin' bollock-y
... so check out where that leaves us...
Devo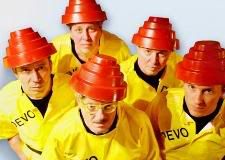 Who they are:
I'm sure you know who Devo is, so instead I will tell you a true story here... For many years I lived off Melrose and had these neighbors I called the "hippie couple"... dude had long blonde hair and little round glasses, wife was even more hippie-looking... the kind of couple you imagined would eat a vegan, locally-grown dinner, watch some art films and then have 22-hour Sting-style sex every night. Nice folks. Knew 'em for years. Then one day, Dude is having a little yard sale out front. I ask him what he's been up to... said he was just out of town doing a show with his band. I had no idea Hippie Neighbor Dude was in a band. HOW CUTE! So I asked him what his band was called. His answer... Devo. Me: "Wait, you mean, like, 'DEVO' Devo?" "Yeah, Devo Devo" What the fa-heck!?!? Who knew?!?! The show he'd just played was a festival in Japan in front of 80,000 people! (Dude was in fact David Kendrick, a non-original member, but still... he was selling some records at this yard sale and he pulled out a Devo album and there was his damn face on the back.) Needless to say, I was flabbergasted. But that's L.A. for ya... you never know when the hippie dude who lives next door and drives a 12-year-old Civic is the drummer for fucking Devo...
What they sound like:
They sound like Devo, dumbass...


What I think:
I like Devo, but they're no Oingo Boingo, if ya know what I mean...
But seriously, you'd kinda want to kick yourself if you didn't catch a least a little glimpse of the flower pot hats live, wouldn't you? I know I would...