A lot of excitement around here this weekend... peep the new banner photo up there... snazzy, eh? Took it myself. I AM AN ARTIST! Also, I made a
Facebook
page for this thing. You should join up. I'll make it worth your while with bonus content and whatnot. Plus who knows... maybe you'll find your true love or something. It's not likely, but stranger things have happened. I mean... you're not ugly, are you? Man, I really hope you're not ugly. Anyhooo, back to
Tone's Dubstep Hut
Blog-achella...
Mount Kimbie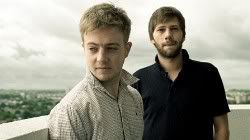 Who they are:
The most promising young British duo since Elton John & David Furnish. (I have no idea what that's supposed to mean.)
What they sound like:
Remember when I went on my little rant about Dubstep a few days ago. This is what I meant. This is the 3rd straight (described as) Dubstep artist, and none of them sound even
remotely
like one another. Mount Kimbie is on the very atmospheric end of things, taking clues from people like Burial and Four Tet... dark and lovely...
Mount Kimbie - Blind Night Errand (ysi)

What I think:
Love the record, don't know exactly how ragin' the live show will be... it'll probably be at least a little more ragin' that this clip from a slightly more intimate-style gig (but I do like the way you can see their every move...)
Yeah, that's pretty good shit. Next... more Dubstep, I'd imagine...