Look, I'm not the one who made these bottom two lines of Friday into Dubstep-chella, okay? So just shut up and deal with it. Besides, the only other acts to come up so far are this mangy lot...
The Rural Alberta Advantage
are about as bad as the name would indicate. Just super "meh" Indie Rock bollocks. But they are really from Canada... how on the nose! If they were playing at a Tuesday night free showcase, I'd go play pool or something during their set...
... but I'm even less impressed with this
Clare Maguire
chick. Just bad, melodramatic, overproduced pop with a bit of a homeless man's Kate Bush vibe from what I can gather. Gag.
Hurts
is a British Synth-Pop act that has been getting a lot of notice lately, but I have a feeling it's more because they have a major label behind them than anything else. I mean, it's not offensive, but it's not notable either. Plus... every video has an ad in front, only short clips available on the Myspace and you should see the ludicrous number of "buy it" tabs on there. The whole thing just reeks of artificially created buzz. Plus, I'm positive if I posted a tune of theirs it would be DMCA'd in seconds. So, eat a bag of dicks, Hurts. Besides... there's better bands at this festival doing this style. I'll point them out to you as we get to 'em... that's what I do.
Which will bring us back to 'doh'... and by 'doh', I mean Dubstep...
Breakage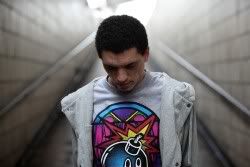 Who he is:
An apparently rather angsty young man named James Boyle. I wonder if his mom is Susan Boyle. There can't be that many Boyles in England, right? I mean, England's a small place... you guys all know each other, right?
What he sounds like:
In his full length,
Foundation
, we have another record split between Dubstep and D & B... very similar to the Jakes, actually, but with a slightly less sinister, more sexy edge. Like in this tune, with vocals by this gal named
Zarif
. Vocal Dubstep? Apparently!

What I think:
I think there should be more vocal Dubstep tracks. Tone Seal of Approval. Actually, I think I'd rather have a Platypus of Approval. They have poisonous barbs, you know. Much cooler than seals. Anyhoo, there are a bunch of clips of Breakage live on the YouTubes, but the sound isn't too great on most of 'em. So... did I pick this particular one because it has topless chicks in it? Maybe...
Hehe... boobies...