It's a beard... it's a plane... it's a muthafuckin' badass beatboxer... it's...
Beardyman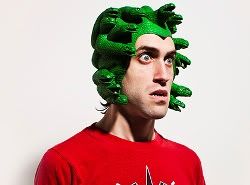 Who he is:
He goes by Darren, I believe. Lovely chap... but don't you think he should be required to have a beard at all times? Calling yourself Beardyman and walking around
sans
beard? The fuck's up with that?
What he sounds like:
Jamie Lidell's live looping x Rahzel's beat boxing x a half-decent stand up comedian to boot. Homeboy does not have an album yet, but it drops in March. So you'll just have to deal with this half-hour live set from his Soundcloud. Prepare to have your earholes fucked in the very, very good way...
And just in case you were wondering, there is a wee bit o' Dubstep in there, keeping the streak alive...
Beardyman live @ Reading Festival 2010 by Beardyman
What I think:
Holy shit, right? Remember how I said a couple posts ago that Jakes was my new fave? Well fuck that guy. My borderline-inappropriate man love is now being rightly slathered all over the (curiously not) bearded one. This video only cements it. It's also an entire set, so grab a Shasta, some pot brownies and your favorite furry pet and enjoy...
Holy holy shit fuck, right? Wow. How did I not know of this guy before?
Full disclosure... I actually kinda did. So did you. We just didn't know it yet. Go to the
new Facebook page
and have your memory jogged. See what I did there? Cross-promotion, bitches!