Let me start off today by giving the gas face to the following...
First off, I can't think of a DJ that excites me less than
Felix Da Housecat
. If I were to write him up, I'd say
exactly what I did two years ago
, so you can go read that if you like...
Then we get
A Place To Bury Strangers
. These guys are the sound of if The Jesus & Mary Chain sucked. But with a name like that, you already knew there was exactly zero chance of them being any good...
A then, there's
The Hold Steady
, who are currently touring with Counting Fucking Crows, so that's all you need to know about them...
So, moving on...
The Presets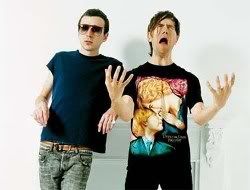 Who they are:
An Aussie duo, one of whom looks in that picture like he was just forced to listen to A Place To Bury Strangers.
What they sound like:
How about... Junior Boys on 'roids? Some pretty nice pop songs with some pretty fierce dance beats underneath...

What I think:
If only all the songs on the record sounded like that one... it's a pretty uneven affair. I think they have a lot of potential, though. So many bands who attempt this kind of Electro-Pop end up sounding painfully '80s (I blame the upfront male vocals for a lot of that, but really, some of these acts stopped listening to any new music somewhere around
Kiss Me, Kiss Me, Kiss Me
). The Presets avoid that... on about half the record. I'm gonna keep an eye on 'em... and I wouldn't be surprised if they were this year's Hot Chip (the unexpected band that stole the show)...
(Seriously, did Hot Chip fuckin' tear the roof off last year or what?)