I do love to name drop, I gotta admit it. Hey, I live in Hollywood... it's a fuckin' sport out here...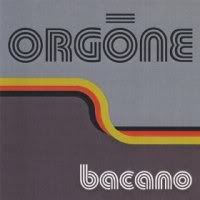 The first time I heard of L.A.-area funk band
Orgone
was when they played one of my best friends' weddings. Little tiny room in a restaurant/bar in Newport Beach. They absolutely killed it for what seemed like hours, mixing their originals in with covers like "Funky Nassau" (which I found out that day was already being caned by people like Gilles) and Syrup's "Sweatshop" (which really scored them bonus points from me). That and the fact that they were some really cool peeps. The Lady and I bought 'em a bottle of wine to quench their thirst and chilled with 'em between sets. Did I mention they're really cool peeps? So I'm gonna give you one for free as usual, but you better run out and buy this record like pronto, people...
Orgone - Already Doin' It (ysi)

Tomorrow, a post months in the making...
Be afraid. Evil lurks...