So apparently Eminem got some Sacha Baron Cohen balls in the face at the MTV Awards last night. The disturbing thing about this news item... the MTV Awards were last night? I had no idea. None. I mean, as a fan of good music I have no reason to care about the MTV Awards, but
damn
, I am officially out of touch... there, I said it.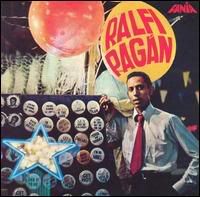 ... so I guess I'll just do what I do and post a record from 1969. This
Ralfi Pagan
cat apparently made a name for himself as a "sensitive Latin lover"-type... and with a voice as weird and high as his, I'm guessing "sensitive" was a good way to go. I'm just sayin', dude was no Barry White. Unsurprisingly, most of the stuff on this record is a little on the slow, sappy side, but there are a couple of burners on here that make it worth your attention. Like this...
Ralfi Pagan - Latin Soul (ysi)

Ralfi also earns bonus points for being murdered under mysterious circumstances. What?