I like to be hip and up-to-the minute sometimes, and I like to be the nerdy crate-digger sometimes, too... but sometimes I don't need to turn ya on to music you don't know, but remind you of who's responsible for it all in the first place...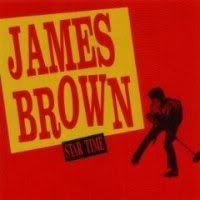 I would have to imagine that between whoever invented Jazz (I believe it was Al Gore, right?), whoever invented the Blues, Kraftwerk and
James Brown
, that's pretty much the group people responsible for the whole of modern music. Okay, those folks and whoever invented sea shanties. You don't want to leave sea shanties off the list... first thing you know there's a knock on the door and some pirate's standing there like, "The fuck?!?! Arrrrr!"... Anyhoo, today I have for you some classic James Brown...
James Brown - Licking Stick, Licking Stick (ysi)

You know the part that kills me in this song... in the middle of the first verse where James just goes "horns" and then they come in. Amazing. But then again it's James Brown (who eats grits and craps amazing) so duh...