Hey all, back to normal around here, not that anyone seemed to notice anything had changed over the weekend, but hey, whaddaya gonna do? I merely try, people...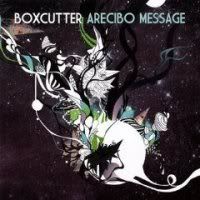 So... kinda cool that the new
Boxcutter
record would pop up in the shuffle so soon after
I just mentioned it
, but lookie here! Synergy, bitches! Or is it Serendipity? I have no idea what either of those words means, so your guess is as good as mine! :P Anyhoo, in case you can't be arsed to click, the point is that this is one of the better Dubstep records, period...
Boxcutter - Old School Astronomy (ysi)

One thing I did not know is that the
Arecibo Message
is that transmission they shot out into space in the '70s that contains the basics of the human race for aliens to check out... and then decide how best to destroy us. (Psst! When in doubt, go with really big lasers). Interesting read if you click that link... if, of course, you can be arsed...