Okay, time to bring what's been an amazing, transcendental, life-changing "Summer" Songs week to a conclusion...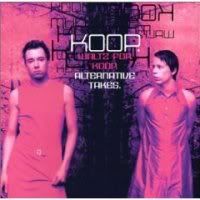 And what better way to that than with a couple cross-dressing Swedes? I don't know of one, so let's proceed...
Koop
really do like to wear the ladies' clothes, from what the Interwebs tell me... which is way more RAWK than some poser like Marilyn Manson who only does it for album covers. Of course, the music isn't very RAWK... it's groovy, jazzy stuff not usually heavy on dancefloor beats. That's where this remix album comes in. Here, fellow Swede
Markus Enochson
, who wears boy-clothes as far as I know, makes a Broken Beat/House thing that is quite summery indeed...
Koop - Summer Sun (Markus Enochson Mix) (ysi)

And there's your "Summer" songs week... you have a whole weekend to soak it in, so have a great one!