While in Detroit last week, I had a musical revelation brought to me from a very unexpected source. And despite the city, it had nothing to do with techno...
"It's like all my life I've been doing nothing but preparing to listen to this."

- Some Random Message Board Poster
And it didn't come from any city slicker. No, it came from a dude from some town in Michigan of approximately 300 people which I can't remember the name of right now...
"All I can say is that I was blown away."

- Some Random Amazon Reviewer
Yes, this new friend of mine introduced me to a genre of music I'd never known existed, and it's for that reason that my life has seemed empty to this point. A music at once so ridiculous and yet awesome that it single-handedly proves the existence of God. I'm talking, of course, about motherfucking PIRATE METAL!
"AAAAAAAAR!"
- A motherfucking PIRATE!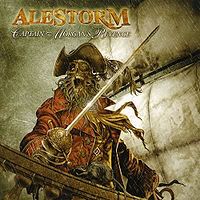 They are called
Alestorm
. They are from Scotland (of course!) and they dress up like motherfuckin' pirates and play Heavy Metal motherfuckin' pirate songs. Not heavy metal about pirates... Pirates playing Heavy Metal. About fucking pirates. YO HO HO AND A FUCKING POWER CHORD SHREDDING YOUR FAAAAAAACE! ACCORDIONS AND PENNYWHISTLES... PLAYED ON A MOTHERFUCKING KEYTAAAAAAR! AND DOUBLE KICKS UP YOUR AAAAAAASSSS, SCURVY BITCHEZ! AAAAAAAAAAR! Seriously, this is amazing...
Alestorm - Wenches & Mead (ysi)

I know. I know! And when you get to the YouTubes it just gets better...
Tonegents will resume regular programming on Monday. I figure it's going to take you all a few days to let this soak in and decide if you ever want to listen to anything other than Pirate Metal again. See you in a few... we shall discuss...