It's been more than a minute since I rocked it
caliente
style around here. Let's fix that right now...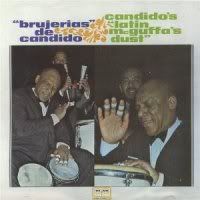 Cuban percussionist
Candido
Camero was known by some as the Thousand Finger Man, which couldn't have hurt with the ladies, AM I RIGHT, FELLAS? (Man, I'm on fire this week.) He left Cuba for New York City in the '50s when he was discovered by some nobody named "Dizzy" something-or-other and has worked with everyone worth working with right up into his '80s. More on that later. First let's hear how he got that nickname, AM I RIGHT, LADIES? Sorry. Anyhoo, here's a typical Candido jam, meaning that it's a simple, loose composition that exists mainly for the reason of letting Candido go the HELL off on some Conga drums. Dig it...
Candido - Here Comes Candi (ysi)

Now, as I said, Candido was still abusing bongos well into his octogenarian years. Which, unlike with Rock musicians, is awesome with Jazz musicians. Do I wanna see an 80-year-old Pete Townsend play the guitar with his teeth? Fuck no. But do I want to see an 82-year-old Candido play the congas with his head? Fuck YES! Why the double standard? Because I said so, dammit...
Shit... I'll be happy if I'm still able to walk when I'm that old... just kidding, FOR I AM IMMORTAL! MUAHAHAHAHAHA!