First off, I guess I should apologize for yesterday. Sarah Palin asked me if she could do a guest post and... well... let's just say that I won't be returning her calls anymore...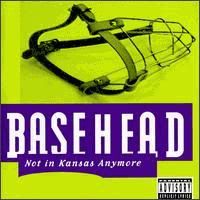 So today we get
Basehead
, the project of Washington DC's Michael Ivey, who was kind of a one-man show, doing all the vocals and most of the (live) instruments. This was a huge college record (if there woulda been blogs back then, Pitchfork would have been ALL OVER this shit), hotly tipped for a breakout that unfortunately never happened. And shortly after this, Ivey's lyrics went from beer & weed (especially weed) tales to Christian Rap and that, as they say, is that. Here's a song with an awesome title...
Basehead - Do You Wanna Fuck (Or What?) (ysi)

Ivey certainly had game, but this stuff was never gonna go over big in '92, because Boyz II Men and Garth Brooks were RUNNING SHIT... and he wasn't nearly as accessible as Arrested Development, who also came out that year. Good record, though. Give it some love...