My apologies for the lack of posting this week (as if anyone noticed). Busy busy busy. But we're here now, so let's do this...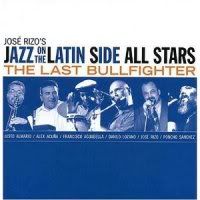 In the history of recorded music, it's generally not been a good idea for a radio DJ to try and actually
make
the music. I give to you
Exhibit A
... which, by the way, is only one of the many reasons Rick Dees is going straight to Hell. Eat a dick, Dees. But as with every rule, there are always exceptions. Like, for instance, when the Radio DJ involved is the amazing, legendary guru of the
caliente
sound,
Mr. Jose Rizo
of KKJZ in Long Beach. He put together a little band named after his show called the
Jazz On The Latin Side All-Stars
, packed with the greatest Latin Jazz players of the here and now. And not only that, but my man actually wrote most of the songs? Geddafuckouttahere! But this is no Dees-like blasphemy against good taste... this is FIRE, son...
Jazz On The Latin Side All-Stars - Caramba (ysi)

So make sure to
bookmark
the man and listen often. It's the right thing to do...