Starting out Saturday is DJ
Alf Alpha
who seems like he does some decent if not-exactly-groundbreaking Downtempo stuff. Call it "meh"...
Then comes another DJ, BBC Radio 1's
Mary Anne Hobbs
who is really quite stellar and will probably drop some of the sickest Dubstep ya ever heard. Go listen to her show for sure. But since she doesn't actually make tunes, there's nothing to post...
And both
Trampled By Turtles
and
The Felice Brothers
are both Country acts of different stripes, and I have no use for that, so Saturday's posts start with...
SBTRKT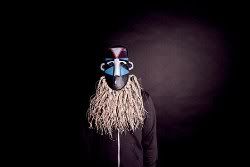 Who he is:
NOBODY KNOWS! IT'S A MYSTERY! HE'S GOT A WACKY MASK! MASKS ARE MYSTERIOUS AND SHIT!
What he sounds like:
With SBTRKT you get either the really good 2-Step biznezz or the really good House biznezz... Here's some of the latter...

What I think:
I think the masked man is all right on the plan. Is that even a saying? "All right on the plan"? The fuck? Anyhoo, the fun part about getting back down to the bottom of each day where the DJs are is the often GRIPPING live video. To wit...
You think really fucked up people get creeped out by that mask? I would think so. I guess we'll find out. I hope they do. It's probably pretty funny...