I'm gonna go ahead and apologize for this post ahead of time. Sorry. Here we go...
Cults
is some group with all of 3 songs up on a Bandcamp page... and they're playing Coachella. Probably because Pitchfork gave 'em a good review. And if though it doesn't sound half bad, I'm still gonna shit on 'em because that just seems a little lame...
The Tallest Man On Earth
I'm gonna shit on simply because he's not.
This guy is
. 8' 1". Damn. I bet he can dunk. Oh, wait, he needs walking sticks just to get around and gets quickly fatigued from even simply standing. So... maybe not.
Foals
are a pretty interesting Brit Rock band, although I'm not quite feeling the singer. But, I'll shit on them because, well, because I'm in a hurry. Definitely peep 'em. Perhaps at
the Facebook page
, even...
Jenny and Johnny
are that Jenny Lewis chick all the Indie kids have a boner for and the dude that is
actually
currently boning her. I'll shit on them because despite the fact that she's cute, I've never been a fan...
Two Door Cinema Club
we
already know about
and would never think of shitting on, unless they were, you know... into it or something...
And
Delta Spirit
I'll shit on because they are, in fact, kinda shitty...
Wiping...
... and now...
Daedelus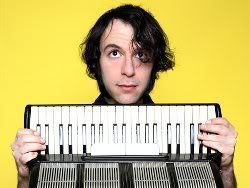 Who he is:
One of the elder statesmen (everything being relative) and possibly the most out-there dude in the L.A. beat scene. I mean, just look at that facial hair... I SMELL WACKY!
What he sounds like:
Pretty fucking wacky, as I've cleverly alluded to just a minute ago. Really though, his sound is one of the most unclassifiable you're likely to come across, so just listen already...
(This one's not technically, what's the word I'm looking for... "out"... yet (4/11), so I can't give you a link to buy. We'll see how long it stays up for...)
(The answer: About a week. Well, Daedalus has sold approximately 300,000,000 albums worldwide, right? Little girls have his poster in their bedrooms next to Justin Bieber's, right? He doesn't need any free publicity, does he?)
What I think:
I think he's worth seeing just to watch him rock his cool-ass
Monome
... oh and the music's pretty good, too...
Should I wrap this up with another shit joke? Probably not, huh?