I'm running a contest on
the Facebook page
right now where if you can guess this post is going to be about Raphael Saadiq, you win some shit. Of course, if you're reading this, it's too late to enter. But hey, if you'd already "liked" the page, you might be a winner right now! I'm mixing time frames like a
Terminator
aren't I? I've confused even myself. Anyhoo...
Only one act to skip today, the extremely odd rapper known as
Lil B
a.k.a. the Based God, whatever that means. In olden days, when Hip-Hop came on large black vinyl records, "base" was a crack reference... and I would not be surprised to learn this dude is a crackhead. He's kinda like Lil' Wayne meets Wesley Willis. I'm not sure if it's a good thing. Again, me confused...
Far less confusing is...
Raphael Saadiq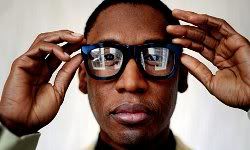 Who he is:
Dude was in Tony!Toni!Toné! If you need to know any more than that... what's your problem, anyway?
What he sounds like:
No New Jack Swing, unfortunately. My man is on a seriously retro '60s Soul tip these days. Notice I didn't say Funk... I said Soul. Important difference. But nope... not a high-top fade in sight, although I bet he throws some "Feels Good" into the set... right? RIGHT?!?!?
Raphael Saadiq - Big Easy (ysi)

What I think:
I think Tony!Toni!Toné! is the single best name for a musical act ever, and if you disagree, I will fight you. And that is the kind of direct, hard-hitting musical criticism you've come to expect and deserve here at Tonegents...
And now I'm about to post this, and no one has won the contest. Oh well, I tried. ALL I DO IS TRY MY HEART OUT FOR YOU PEOPLE!!!! Unless, you know... I've got something else to do that day...