We're gonna pass right by
Chuckie
and his Fidget House bollocks and go with...
The Radio Dept.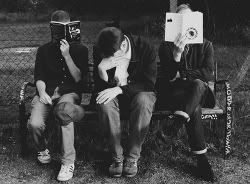 Who they are:
A band of Swedes. Now, usually I find the whole "obscure our faces in the promo shot" thing to be kinda douche-y and played out... but as you will soon see, these guys get a pass because it turns out they're not douche-y, just kinda ugly...
What they sound like:
Every now and then, some little wimpy, jangly, sensitive girly-man Pop band randomly strikes my fancy for unknown reasons... ever since the days of The Trash Can Sinatras and The Ocean Blue. (Anyone? No? Well Google that shit then.) These guys are the latest such band...
The Radio Dept. - Heaven's On Fire (ysi)

What I think:
As I said... they're not much to look at, but they make some purdy noise...
All they're lacking to be true girly-men is a saxamaphone, AMIRIGHT?!?!