You like remix albums? I like remix albums. Here's one now!
Today we have your usual two-pasty-Brit outfit, this one being
Zero dB
. I'd cite a couple of facts and talk 'em up a bit, but for some reason they decided to put the bio on their Myspace in a freakin' 56-point font which pretty much makes it like reading an eye chart... so they can suck it. Vocals by excellently named Aussie lass
Phoebe Killdeer
. Sounds like some kind of supervillian secret identity name, doesn't it? "By day, she was demure zoo employee Phoebe Killdeer... by night, she ruled the woodland and commanded it's animals as Mother Nature!"... or something. I dunno... I just like that name. On the remix is
Raphael Sebbag
, the not-Japanese guy in United Future Organization, and he gives the whole thing a sexy bullfight vibe...
Zero dB - Sunshine Lazy (Raphael Sebbag Remix) (ysi)

... okay, so naturally I had to do a Google image search for "sexy bullfight". But the results were kinda disappointing. Here's one of the top pictures that came up... and I just gotta say that anyone who finds this sexy, well I'm not sure I wanna hang out with 'em...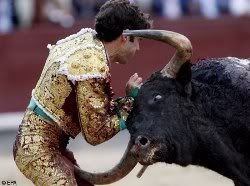 "So, you wanna poke me with a fuckin' stick, eh? ZANG!"
That is going to leave a mark... on my psyche. I'm gonna go now...