You may be inclined to scoff at today's band, but you keep your scoffin' to yourself, buddy. If I wanna hear anything outta you, I'll rattle yer cage!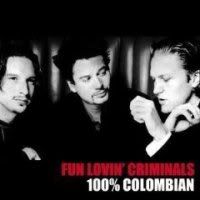 Fun Lovin' Criminals
are one of those bands that had only moderate success here at home in the U.S. but really blew up in Europe for some reason. Kings of Leon are a current example of that. Only difference is... Kings Of Leon suck chrome-plated tractor pipe. The Fun Lovins had a nice thing going on, though... a laid back Rock/Rap combo with humorous lyrics... that got buried under the much angstier, shoutier and shittier Rap/Rock that was popular with the kids at the time...
Fun Lovin' Criminals - All My Time Is Gone (ysi)

(Goear is fucked again today. But don't worry, it sounds like you think it sounds. Just grab it already.)
These guys did have one hit here in the states though, the Tarantino movie-sampling "Scooby Snacks". You might remember it...
I'm gonna go get all whacked on Scooby Snacks myself now... whatever the hell that means...