So here we are, three weeks away from Coachella... guess I better get to that Sunday lineup now, eh?
And once more we start at the bottom, where lurks cheesy-ass lookin' DJ
Marshall Barnes
. Look at his Myspace, listen to the tracks and tell me he's not cheesy as gouda. You can't!
Then we have
The Night Marchers
from San Diego, who seem to be a new band of the singer of Rocket From The Crypt. I'm sure to some people this is a big deal. I, however, am not one of those people...
So that means our first blogged act of Sunday shall be...
Mexican Institute Of Sound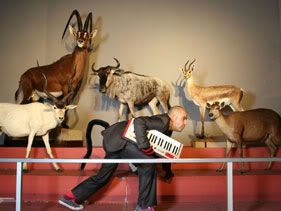 Who he is:
The entire institute is composed of Mr. Camilo Lara, a man rumored to own a record collection 45,000 strong... which makes my library look piddling in comparison. This is a guy I can look up to!
What he sounds like:
Electronic beats with Mexican-flavored samples. Yes, Mexican is a flavor. Look it up. You'll also get the occasional rap in Spanish. All-in-all a nicely original sound... imagine if you will a Hip-Hop Nortec Collective...
Mexican Institute Of Sound - Escribeme Pronto (ysi)


What I think:
A fine mid-afternoon diversion before the heavy hitters step up, if not the most electrifying live show I've ever seen...
Doesn't look like much like a rapper, does he? Maybe he needs to spruce up his style... how do you say "grillz" in Spanish? Look it up, and when you're done, have a great weekend!