Technically going out of order today, which of course makes my Virgo molars grind, but hey... I uploaded the wrong song before I left Tonegent H.Q. this morning... sue me...
M.I.A.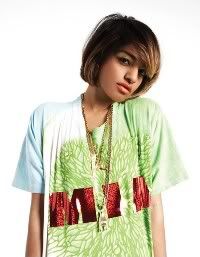 Who she is:
Amy Winehouse's replacement... pretty nice save by Goldenvoice, there.
What she sounds like:
At this point, anyone who doesn't know what M.I.A. sounds like... after
Pineapple Express
,
Slumdog Millionaire
and the Grammys... has probably been living under a rock... and not a fancy rock with digital cable... just a plain old rock. Hope they didn't get a sub-prime mortgage on that sucker. Anyhoo, since pretty much every M.I.A. song in existence has been blogged to death, I'm not even gonna worry about coming up with something obscure for ya. So here's my tribute to
Slumdog
, one of the best movies of the decade. I was stoked that this mix was in the movie...
M.I.A. - Paper Planes (DFA Remix) (ysi)

What I think:
I loves me some M.I.A., but who knows how this show will shake out? Her first appearance at the 'Chella some years ago was amazing, electric, legendary. Her show last year was by all accounts a hot mess, trainwreck, clusterfuck. So, let's hope for something in between?
We'll see how it pans out. We finish Saturday tomorrow... huzzah!