Happy Monday, folks. I'd love to have a crazy story for you such as my Cabo adventure from last weekend, but I pretty much stayed in and watched "Lord of the Rings" on TNT. You know you did, too, so don't even front. So back to the Blog-achella... Friday is done and I think I blogged 17 acts as being worthy. Not a high percentage. Let's see if Saturday improves on that... I'm not so sure that it will, but at least we're starting out strong...
Tinariwen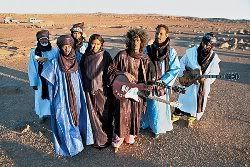 Who they are:
Maybe the most unique act to ever grace the Coachella stage. I say this because these dudes are
Tuareg
folks from the Sahara desert in Mali. I don't recall there being too many of those in past lineups. Those aren't some hipster-ironic outfits up there folks. That's how these cats roll.

What they sound like:
I'm seeing it called African Blues, and I can get behind that label if I must. I won't pretend that I can dissect different African music styles but let's just say... traditional African sounds and the always underlying funkiness they bring plus some good ol' fashioned Rock/Blues guitar. But don't take that as meaning this music is watered-down World fusion pap. This is soulful, authentic stuff and it's kinda amazing...

What I think:
Call Tinawiren the first undiscovered gem of the year. You know how I feel about African music, so I doubt you're surprised. And it looks like it gets better live...
Now that's music minus the bullshit, people. No blog hype here, no hipster posing, no bad hair (heck, you can't even see their hair under the turbans - how RAWK is that?)... just some folks who were at one point
conscripted into Gaddafi's Army for fuck sake(!)
having a good time playing real African music. I'll take that over Ivy League boys miming Paul Simon miming African music any day. That's right, Vampire Weekend, you are Tinariwen's little white bitches. And yes, I just called you out for no reason at all! Suck on that!