Another one for the pleasant surprise file today... keep this up, Coachella, and maybe we can still be friends...
Thenewno2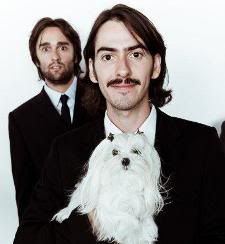 Who they are:
Never heard of these guys, which is odd because the dude in front is George Harrison's son, Dhani. You'd think a Beatle-spawn's band would get a little more pub, no?
What they sound like:
Obviously, Dhani has his dad genes for music (as well as looks... yikes!), because I'm shocked at how good this is... Brit-Rock done right... great melodies, a hint of dad's singing voice and really nice (i.e. non-cliche) electronic touches...
Thenewno2 - Give You Love (ysi)

What I think:
I'd rather see the Beatle-spawn than the actual Beatle (that's right, suck it Macca). Whereas the Lennon boys kinda sucked at music, the Harrison kid has got it goin' on... who knew?
My only advice... lose the stupid band name. Other than that, keep up the good work, junior.
(pinches cheek, ruffles hair)