So, I guess I forgot to tell you ahead of time that I was going to be on vacation last week, huh? Sorry 'bout that. Won't happen again. Promise. But now it's time get back to it, because the big show is less than a month away! So without further ado...
MSTRKRFT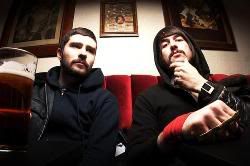 Who they are:
A duo from Canada ("Take off, eh!") that I put up with people like Justice as founders and one of the few interesting acts in the ElectroBlogFidgetHouse genre.
What they sound like:
They've done the interesting thing on their new album Fist Of God of teaming up with some pretty mainstream Hip-Hop/R&B artists. The results are a bit mixed, but this jam with
John Legend
, of all people, sounds like a hit to me...
MSTRKRFT - Heartbreaker (ft. John Legend) (ysi)

What I think:
It would certainly be cool if some of those big name stars dropped by, and who knows... anything can happen. But if it's just them, it'll look a little like this...
... which seems like good times. Okay, no more vacations from me, I promise...