You know, I almost feel bad about this...
I almost feel bad about the fact that I'm going to skip over 11(!) acts here, but when it comes down to it... would I go and see any of these if it were not Coachella? If it were just them playing? Nope. Not a one of 'em. You can call me picky, I can call this lineup dodgy. 'Tis all a matter of perspective... anyhoo...
Drive By Truckers
more or less got covered yesterday,... as much as I'm gonna cover 'em anyway...
Dr. Dog
sounds like a really awful jam band... oh wait, this just in... they
are
, in fact, a really awful jam band. Look, I saw the Dead a couple times, and in such completed my lifetime need for the jam band experience...
Glasvegas
are some Scottish blokes that do Jesus & Mary Chain insp-- zzzzzzz...
Oh hey! When'd you get here? Wow, I just bored myself to sleep just then... where was I? Oh, right...
Superchunk
, I remember, were quite highly thought of 20 years ago when College Rock was the rage. But they never really did it for me...
Okay...
Hercules and Love Affair
. This is the one I get flamed for, right here. But you know what? I, as a pastime, listen to a lot of dance music. These guys are middling to decent Disco House totally ruined by Antony Hegarty's voice. That dude's voice makes my ears want to jump off my head and hide, quivering, in my ass. I hate his voice. And I hate his stupid face. What, do you think the Indie kids that are falling all over themselves for this will go out and start buying Escort records? Doubt it. Die. Twice.
Turbonegro
are freaky Scandinavian leather boys, who play surprisingly straight-forward punk with a twisted sense of humor.
Last year
, I kinda dug it...
Ah,
Jenny Lewis
. Everyone's supposed to love Jenny Lewis, right? She was a child actor! Did you know that? I bet you didn't know that!
Speaking of acting, who can forget
Henry Rollins
' amazing movie career? Okay, actually, who can remember it? If he's doing his spoken word/comedy thing, absolutely. Dude's fuckin' interesting! If he's doing music, don't bother. I've seen it more than once, surprisingly. It's quite shouty and irritating... "CAUSE YOUR A LIAAAARARRRR! BLAAAARHGHAGHAGHAG!"
Crookers
is an act I'd love to be anything more than yet another ElectroFidgetBlogHouse act... but they're not. D'oh!
I'm very happy that
Travis & DJ AM
survived that plane crash and all, but it still doesn't make them any good at music...
And then there's
Mastodon
, who I'm guessing are the single most Metal band to ever grace the Coachella stages, sure to bring mayhem and destruction down upon all. But I don't really like Metal. I'm somewhat fascinated to read about it once and a while - the descriptions & language used in Metal reviews is kinda cool. But then I listen to it... and it's still Metal. I'm just not angry enough for it any more, and this is coming from someone who used to mosh at Ministry shows...
And then finally Mr. Picky found one he liked enough to blog about...
Atmosphere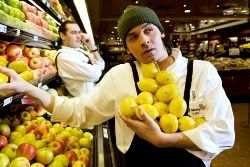 Who they are:
A now veteran Rapper & DJ duo from the Hip-Hop hotbed of Minneapolis. These guys are something like six albums in now and their popularity is still growing. How rare is that in Rap? (Pssst! Quite rare!)

What they sound like:
Well, one of the reasons their popularity is growing is because they keep getting better. How rare is that in Rap? (Pssst! Quite rare!) Their latest, the brilliantly named
When Life Gives You Lemons, You Paint That Shit Gold
, is easily one of the best Rap albums of last year. It is an introspective affair though, with nary a party jam to be seen. But the lyrics are just outstanding... check it...
Atmosphere - Wild Wild Horses (ysi)

What I think:
Go see 'em. Heck, even Dave is down...
... and if there's one thing Letterman knows, it's Hip-Hop. Okay, I think this post is long enough. 'Til tomorrow...