I think I'm gonna have to save a space in the year-end Top 10 for this one...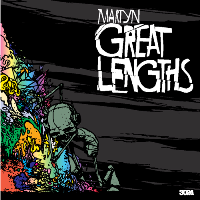 First off, don't hate
Martyn
for spelling his name with a "y"... he's Dutch, they do that. Because once you get past that, you'll hear an album that's going to win quite a few new converts to Dubstep. The tunes tend to be more on the 2-Step, dance-y side as opposed to the heavy, dubby, wobbly side... but what really makes this record stand out is... well, I don't have the exact words for it, but it kinda sounds like what I'd imagine an Orbital Dubstep record would sound like. Catch my drift?

Burial set 'em up for me, now Martyn, Benga and Boxcutter have knocked 'em down. I've never been much of a genre-hopper, but I gotta say that the last "new" style that won me over like this was the Drum & Bass, which I like to this day even though no one in the U.S. listens to it anymore. Dubstep even has it's own playlist in my iTunes now, which is a big deal... to... okay, to nobody, but still... good on ya, Dubstep... keep it coming...