I don't know about y'all, but this switch to Standard Time is messin' with my brain. It's like pitch black at 5 PM these days... which makes it feel like 10, which makes me want to go to bed way too early. Or maybe I'm just an old man... anyhoo, I think we need to fight off the lethargy with a week full of uptempo tunes, and there's no more uptempo way to start than with some Drum 'n' Bass...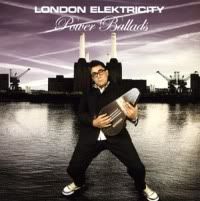 I can't be arsed to look back through my old posts, so if I've mentioned this before, oh well... but I was so into Drum 'n' Bass when it all started, but then kind of let it slip by the wayside when I got all into House. Haven't really been following it too closely for a few years, but turns out there's still some really good stuff being made, and a lot of the best new D'n'B comes out on
Hospital Records
, a label that's been around for quite a while now and is obviously still going strong. Perhaps their biggest act, Mr. Tony Colman, aka
London Elektricity
is a man who you gotta love, especially for the very funny title and album cover of
Power Ballads
. But hey, the music is no joke (aren't I clever)...
London Elektricity - Vapour Trails (ysi)

... me likey very much. And my man Tony scores extra points for touring this album with a live band. I loves me some live band D'n'B, and as you can see from this YouTubes video, they did it right...
Give me a stand-up bass and I'm ready to rock, folks! More lively fare on the way... stay up late!