Good morning class, and welcome to Funk 101. Please open your textbooks to page 23...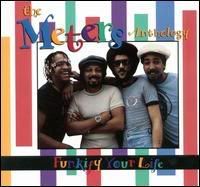 Everybody knows that the definition of funk begins with James Brown, and the Godfather cannot be touched... but if he has any competition at all, it has to come from the pride of New Orleans,
The Meters
. They're probably the second most sampled band of all time... even if you haven't heard 'em, you've heard 'em, nawwhutimean? Led by Art Neville of the Neville Brothers, these guys were the masters of that NOLA sound, a more laid-back, jazz-influenced vibe than Brother James laid down, but still plenty hot and stanky... and if there's one thing that's better when it's hot and stanky, it's funk... I could make any number of nasty jokes there, but I'll spare you... this time...
The Meters - Little Old Money Maker (ysi)

I can't recommend this 2-disc anthology highly enough. More than essential... mandatory!
And here's some YouTubes action for ya from 1974, a few years after today's song was cut and right before they toured the world opening for The Rolling Stones(!)... don't you love when you get to watch movies in class?
There will be a quiz later, so you better study!