Now, yesterday I mentioned that Galactic's song had a piece of "Manteca" in it... so I figured I'd help you out, if you weren't familiar with that particular tune, because I am here to help, people! Remember when Paris Hilton was in jail and made all these pronouncements that she was going to dedicate herself to helping people when she got out, only to recant on them when she realized that helping people actually required, like, you know... doing stuff? Well, I'm no Paris Hilton! I've never recorded a sex tape... in nightvision, anyway... and I'm going to follow through! But I'm with Paris on one thing... I'm not going to Rwanda, either...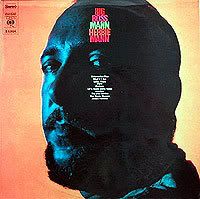 Anyhoo,
Manteca
is a jazz standard by Dizzy Gillespie and Chano Pozo that has been recorded oh, about a billion times, one of my all time favorites. This version, by flautist
Herbie Mann
, I was just introduced to by the awesome
Jose Rizo
on KKJZ's "Jazz on the Latin Side" show. (Do yourself a favor and check that out on the
stream
some time, both the music and my man Jose are amazing... talk about the perfect drive-home-from-work music!). Now, I'm not necessarily a Jazz flute aficionado, so it's the sick, sick percussion throwdown (at about 2:30) in this arrangement that really does it for me...

See what I mean? Intense! But if you wanna talk Jazz flute and intense, well, there's really only one man you need to know...
Stay classy, blogosphere...