Today, some great '70s Jazz/Funk and a fabulous album cover...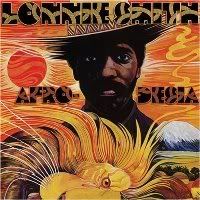 ... but before we get to the track, allow me to clear some things up. This
Lonnie Smith
... or
Dr.
Lonnie Smith to you, whitey... is not
Lonnie Liston Smith
, okay? Yeah, they both have the same name, both played keyboard, both put out their most famous work at the exact same time and in pretty much the same style. But that's really all they have in common. I don't know where the confusion comes from... sheesh! Also, this Lonnie Smith is
not
the fine slap-hitting/base-stealing outfielder of the '80s...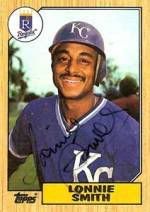 "I can't even play piano!"
... besides, baseball Lonnie Smith was also a famed cokehead, and we all know that all the best Jazz players prefer the smack. Okay, so now that we have that out of the way, the song! Now, the first 1:30 of this song has some vocals that you might describe as, how can I say this nicely... Chocolate Porn City, perhaps? But after that, it settles in to a great uptempo workout with really nice extended trumpet and sax solos and some wicked percussion... a real groover, check it out...
Lonnie Smith - Afrodesia (ysi)

Dr. Lonnie is still going strong today, rocking a bad-ass turban and a surprisingly pimped out website... he's fly like that. Word.