No really, that's the literal translation of the name for this style...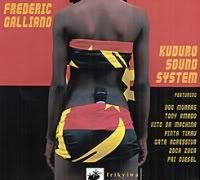 If you're like me, the first thing that pops into your mind when you hear the word
Angola
is that time when a member of their Olympic Basketball team met the business end of Charles Barkley's elbow. But I'm here to tell you there's more to this proud African country than that... I mean, there's gotta be, right? It's a whole big country and stuff. Wait, I know one! They have music! Bet ya didn't see that one coming! Angolans have an interesting form of Hip-Hop called Kuduro, which is very similar to Brazilian Baile Funk or South African Kwaito or even Reggaeton. And as often happens with this kind of thing, it took a dirty furriner to introduce it to the rest of the world... in this case, that furriner was Frenchy
Frederic Galliano
. The record is called
Kuduro Sound System
and the system sounds kinda like this...
Kuduro Sound System - Isto E Kuduro (ysi)

Diggin' the beats a lot, but I have to say the shouty rapping (in Portuguese!) wears on you after you get a few songs into it. But here at Tonegents we are committed to presenting the worldwide music um... thing... in all it's many... things... or something...