Tonegents: Keeping you uninformed since 2007...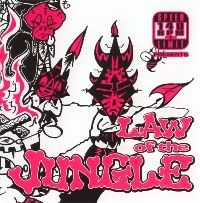 Here's a track from a compilation so old it's on Moonshine Music, the L.A. label that put out pretty much every electronic music compilation ever produced in the late '90s, but isn't around any more for reasons I cannot be arsed to research for you. Maybe the rise of Astralwerks killed 'em, maybe when the European labels finally got domestic distribution so you could get the good stuff without having to shell out 30 bones for an import killed 'em, maybe the fact that seemingly every artist they tried to culivate ended up in Bad Record Contract Hell killed 'em, but whatevs. Anyhoo, this little bad boy here may actually be one of the best things they put out... at least it's one of the few that I would still bother to listen to. A fine collection of early Jungle biznezz, and although most of it is the Ragga-style stuff that was so popular in the beginning, heres a much more atmospheric track by
T-Power
(most recently seen heading Digital Soundboy records) that you could say pre-sages the chilled out sound soon to be made huge by people like LTJ Bukem. Yes, you could say that... I have no idea if that's actually the case, but you could say it all you like... I won't stop ya...

So those are my guesses about stuff about this track. Tonegents: Where information is king!