Spanning the globe, it's Tonegents...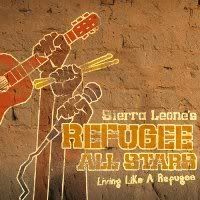 Some music stars claim to be from rough backgrounds... did you know that 50 Cent got shot or something?... but few stories can compare to that of the
Sierra Leone's Refugee All-Stars
. These guys were victims of a decade long
civil war
that cast a massive number of people into a life of moving back and forth between refugee camps in Guinea, which was, to be inappropriately glib, not a whole lot of fun. But the guys got together in the camps to play music to keep people's spirits up, got discovered by a group of furriners (thank goodness not Ry Cooder and his stupid douche-y slide guitar) and got the chance to make an album and documentary that won them some worldwide acclaim. But unlike the Buena Vista Social Club, they were not all 120+ years old, so these guys make music very much for modern times, as the rapping portion of this Reggae-styled song would suggest...
Sierra Leone's Refugee All-Stars - Weapon Conflict (ysi)

Not freakin' bad, eh? Here's a clip from the documentary as well...
Inspirational stuff, and I think fitting for what could be a very inspirational time here in the next 24 hours. Not that there's a real connection, I guess, but it was a decent line, so I just threw it out there hoping you wouldn't notice... :P