Finally, a guitar band at Coachella worth seeing!
We Are Scientists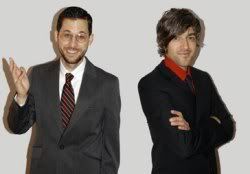 Who they are:
A duo (who used to be a trio) who made the very wise move from the Inland Empire to Brooklyn. Very wise... the Inland Empire is kind of like living in a strip mall inside of a car muffler.
What they sound like:
Extremely catchy Indie Pop...
We Are Scientists - Lethal Enforcer (ysi)

What I think:
When I first heard these dudes a couple years ago, I went on my Myspace blog and proclaimed them the next big thing... which hasn't exactly happened. I'm not sure why... these guys are so much better than the Interpols and their ilk. I'd compare 'em to someone like XTC... a band that was never sexy, never the biggest band in the world, but no one threw out one perfect Pop hook after another like they could and they were around for a long time and scored a few modest hits. So hopefully these guys can at least match that kinda success eventually. Take that as a glowing recommendation...
I'm sure I'll be back to pasty dudes playing records soon, so I hope you enjoyed the Rawk...