Today's skippable band is
Molotov
, from Mexico, who play Rock En Espanol. Tonegent is not down with the Rock En Espanol. It's not so much the Espanol that bothers me, it's the sucky Rock being Espanoled...
Which brings us to these two knuckleheads...
Craze
&
Klever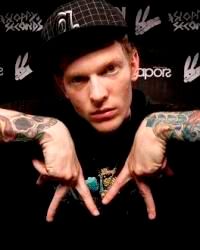 Who they are:
The black dude is Craze, from Miami, and the white dude is Klever, from the A.T.L... they are both DMC Champions (which is a contest for playing the turntable records).
What they sound like:
From what I read, these are a couple of guys who, like Z-Trip, will throw anything and everything into the mix at any time, which is usually a good bet for fun. But the only thing they've recorded together is this mix, which is pretty much beats and scratching... for 50 minutes... which is perfectly fine if you're into that sorta thing...
Craze & Klever - Scratch Nerds
What I think:
I think the show itself will be much more like this YouTubes...
... and hey, that looked kinda fun. So check 'em out...