Sometimes at Coachella, in order to be heard, you need to make some noise!
So I'm going to skip past singer/songwriter-type
M. Ward
because as I've said before, a dude and an acoustic guitar don't work at Coachella, no matter how good it is. The Sahara Tent eats 'em all alive. Don't believe me? Just ask Beck. Ward's not bad though... give him a listen...
But these two won't be drowned out...
Patton
&
Rahzel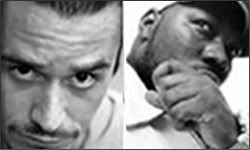 Who they are:
Mike Patton of Faith No More, Mr. Bungle, Fantomas, Lovage and 53 other bands I don't feel like listing and Rahzel, formerly of The Roots and probably the best beat-boxer alive.
What they sound like:
That's where it gets tricky. Mike Patton is so weird, who knows what'll happen. These two supposedly have an album coming out... but it hasn't, so the only way we'll know what to expect is from evidence on the YouTubes. We'll get to that in a sec, but here's one from Patton's Peeping Tom project to hit your mp3 fix with...
Peeping Tom - Mojo (ft. Rahzel & Dan The Automator (ysi)

What I think:
... but that Peeping Tom record was supposed to be Patton's idea of Pop. Here's that live footage I was talking about, and it don't sound nuttin' like "Mojo"...
... so yeah, Rahzel's insanely amazing and Patton's insanely insane. There's another clip from this show out there where they cover "Milkshake", so... should be pretty interesting to say the least...
... oh, and Happy Friday the 13th & Valentine's Day (which one is scarier?) and have a great weekend!