In which we complete the Friday lineup with a couple of nice old ladies...
Morrissey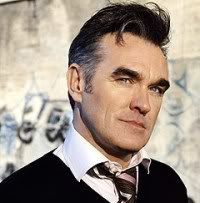 Who he is:
Some old queen who used to be in some band... :P
What he sounds like:
Here's the thing about Morrissey, and why I haven't really followed him closely post-Smiths... with a voice as unique as his, everything he does is just gonna sound like The Smiths anyway, only minus the Johnny Marr goodness... because it's not like he's changed the sound very much. And since I haven't really kept up, and don't feel uncool for it, here's a favorite jam... from 20 years ago. Fuck, I'm old...

What I think:
Never seen Morrissey, but I'd love to. LOVE The Smiths! Heck, when I was in college, a running joke between my friends and I when we were depressed was "Morrissey understands me!" What a bunch of homos we were. Anyhoo, just play a lot of Smiths, Mozzer... oh, and this song...
And then finishing out Friday,
Paul McCartney
, who these days, shit... slap a wig on him and he'd
look just like someone's great aunt
. Don't really care for The Beatles, call it oversaturation, and quite honestly have no need to hear
"Silly Love Song"
at Coachella. Hate me if you must.
Let's see if we do better with Saturday, which will start Monday so tomorrow I can do House Music Friday... confused yet?