We're not exactly starting out strong here, but it
is
the bottom of the bill, after all...
First we have
Genghis Tron
who play a lovely genre combination... Heavy Metal meets Trance. No, really. I'd say you should give it a listen, just to hear the suck for yourself and be somehow... i dunno, enriched by the experience... but personally I'd rather stick a pissed-off ferret in my ear...
The Aggrolites
are yet another SoCal whiteboy Reggae band. I'm not going to completely hate on it 'cuz you know I like the Reggae, but still... they're more Hennessey's Hermosa Beach than Coachella. Just sayin'...
Then there's
Steve Aoki
, who can eat a bag of dicks. To me he's a poster child for the currently fuck-awful state of the club scene. When the first song on your Myspace player is a "fidget" House remix of Good Charlotte, you need to go die in a hole. And take Paris Hilton with you...
And that's today's snark. Here's the next one to see...
Gui Boratto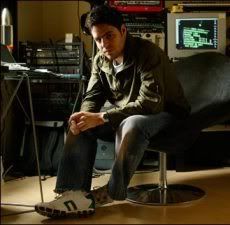 Who he is:
A Brazilian producer on Germany's Kompakt label. I really hope his first name is pronounced "Gooey", btw...
What he sounds like:
This is Techno, but not quite in the minimal style that can be so boring. If you remember The Field from last year, you're going in the right direction - and add a vocal here and there. Actually the new album has just as many downtempo songs on it as dancefloor tracks... but here's a dancefloor track. I hope I don't get in trouble for posting this... it hasn't exactly been "released" yet... :P
Gui Boratto - No Turning Back (ysi)

What I think:
Dude's not reinventing the wheel or anything, but compared to Steve Aoki, he's freaking Mozart... and one of your better Sahara Tent choices for Friday. On to the YouTubes and the excitement of live Techno...
... but then again, what did you expect? Just let the tunes and the pretty lights and your recreational lubricant of choice do the work...