Hard gettin' up the energy to blog today after an insane Cabo party weekend, but I'm fighting through the pain especially for you...
Silversun Pickups
are a decent little rock band, but I blogged on them when they played Coachella in '07, so you can click that link to see what I thought then... and I'm reasonably sure my opinion hasn't changed. Actually today's act played that year, too, but he's gonna get himself a shiny new post, because he's quite good...
Girl Talk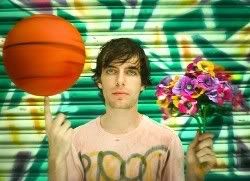 Who he is:
Mr. Greg Gillis, a laptop mashup guru like no other.
What he sounds like:
Kinda like the entire Billboard Hot 100 charts of the last 30 years thrown into a Cuisinart. For instance, this song here samples Big Country, Tag Team, Kraftwerk, The Cardigans, Hot Chip, Flo.Rida, Justin Timberlake, Stardust, Michael Jackson, Janet Jackson... oh, just see for yourself...
Girl Talk - Hands In The Air (ysi)


What I think:
I think you should go check it out... if you're into stupid stuff like fun. Actually got a whole show from the YouTubes here... dude is out of his mind, in a good way... sorta...
Okay, actually I'm a little scared... that was a lotta sweat I don't want on me... you go ahead up onto the stage, I'll stay clear of the bodily fluids, thank you very much.