Okay everyone, Blog-achella time! For those of you who know, it's back. For those of you who don't, here it is. I shall dissect the lineup with surgical precision in hopes that it will educate and entertain us to it's full potential. Or something like that. This year I'm going to do it the way I finished it up last year, i.e. there's way too many bands to do a full post on all of 'em, so I'm only gonna do full posts on the ones I think are worth your time. The others shall be quickly glossed over and snarkily put down, but I will supply links so that you can go check them out for yourselves... because hey, what do I know? Let's begin at the bottom of the Friday lineup, shall we?
This year starts off with the unfortunately named
Dear and the Headlights
(I'm sure they think it's cute and clever, but it's more FAIL). They are an Indie Rock band from Arizona that are the pure definition of a word very important in Blog-achella lore, and that word is
"meh"
. Get to know it...
Next we have the even worse named
Cage The Elephant
from Kentucky. Kinda Southern Rock stuff... the first words that popped into my mind were "Black Crowes"... the second were "Kings of Leon"... the third, once again, "meh"...
Then there's
The Courteeners
, who are only here because they're Morrisey's opening act, and guess what? They sound like they listen to a lot of Morrisey. Not that there's anything wrong with that. Oh, and one of the dudes looks like he could be Hurley from
Lost
's little brother, so they got that going for 'em...
And then we come to our first blog-worthy act...
People Under The Stairs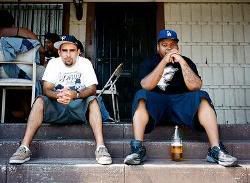 Who they are:
A Los Angeles duo, Thes One and Double K, both of whom DJ & MC... they multi-task like a mug.
What they sound like:
This is good time Hip-Hop from the Pharcyde/Tribe Called Quest mode... the beats are really nice yet laid back, and, well actually so is the rapping. Its perfect backyard barbeque music, and you know how I feel about that...
People Under The Stairs - Anotha (BBQ) (ysi)

What I think:
There keeps being less and less Hip-Hop at these things, and that's one of my biggest complaints. I mean, this is pretty much it for Friday Hip-Hop. Oh well, at least the one act they got is a good one. (And don't start in with me about Patton & Rahzel - who
knows
what that will sound like...)
I'm going to try and find live Youtubes for you this year whenever I can, so here they are in action... I think you'll agree... it's a Hip-Hop show... it's no frills, but the music is tight...
And hey, the dude played the sampler with his face! That's wacky, yo! You tellin' me you don't wanna see a dude play a sampler with his face? You lie!