You know how sometimes some little tiny indie movie comes out from some director you've never heard of that has a ridiculous A-List cast? And you're like, wow, is this director the one that you call to take care of the dead hookers and did he decide to call in all of his favors at once? Today's Coachella act is the musical version of that...
N.A.S.A.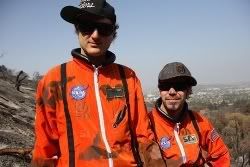 Who they are:
L.A. producer Squeak E. Clean, who's actually the brother of film director Spike Jonze and Brazilian DJ Zegon... along with apparently every single person they've ever loaned a quarter to for the soda machine while at the studio. Click the Amazon link down there and just look at guest stars on this thing. Everyone from Kanye to Tom Waits. Why are all these people on an album by two guys I've never even heard of before? I'm telling you, soda machine jokes aside, dead hooker removal...

What they sound like:
Turns out N.A.S.A. stands for North America South America, and the South American part is represented the sampling of many Brazilian beats. So just call it Handsome Boy Modeling
Escola
...
Nasa - The People Tree (ft. David Byrne, Chali 2na, Gift of Gab & Z-Trip) (ysi)


What I think:
Really, really good album, much like HBMS. Now, how this translates into a live show, I dunno. Which/how many of the guest stars will show up? And why does the only available clip of them show them spinning House music when this is a Hip-Hop record?
Beats me. Hope for the guest star extravaganza. It'd be pretty cool if David Byrne showed up, eh? Either way, looks like it'll be pretty entertaining...