As we go through this lineup, remember... some of these acts I'm glossing over are worth a listen. I'm doing it this way partially to save myself from the 3 to 4 posts a day madness of last year, which was quite frankly ridiculous. For instance, go check out this next guy...
Ryan Bingham
. He's one of those Alt. Country artists... aka, Country that doesn't totally suck. If you're into that kind of thing at all, definitely worth a gander. He's better than any of the rock acts I've heard so far, so suck on that... but he doesn't get a full post. These guys do, though...
Buraka Som Sistema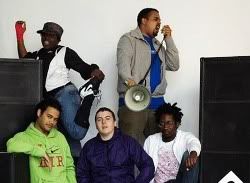 Who they are:
A bunch of crazy kids from Portugal. Ya know, Portugal seems like a pretty underrated country to me. I mean, everybody's always like blah blah blah France, blah blah Italy, but do you ever hear Portugal get any love? You don't! WTF?!?!
Portugal is solid, yo!
Don't sleep on Portugal, or you be missin' out!
(This message was paid for by the Portuguese Committee For Not Sleeping On Portugal, Yo! a.k.a. PCFNSOPY)

What they sound like:
They are practitioners of Kuduro, a new-ish style of music that I went into my typical half-assed detail about
just recently
. Although I think I like this one better than that other one. There's even a couple of tracks without the shouty rapping on this record, and here's one now...
(MP3 REMOVED BY THE MAN)
What I think:
I think it could get tired after a little while, but if you wanna spend a half hour dancing like a nutjob with something more to look at than a pasty, balding white dude spinning records (although it looks like they do in fact have one of those), here's your solution...
Yep, that looks like reasonably good times... and with this year's lineup as it is, that is a glowing recommendation... :P