Welcome to my third day of Nicotine Deprivation Induced Stupor... I think that says it all...
The only act I'm going to skip today is
Clipse
, a rap duo that's a bit commercial for my tastes, but not 50 Cent-style fuck-awful by any means...
And we have a fitting act for what's usually House Music Friday...
M.A.N.D.Y.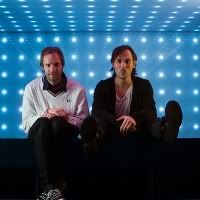 Who they are:
A pair of German DJs known better for remixing than original productions... also they're the heads of the excellent Tech House label
Get Physical
, which I've yapped about on several occasions.
What they sound like:
Deep Tech House goodness... again, these guys don't have too many tracks out under there own name, but I was able to dig one up for ya nonetheless...
M.A.N.D.Y. - Say A Little Prayer For Me (ysi)

What I think:
This is definitely a DJ set, but since they run the label and all, I'm sure they'll drop all sorts of tasty upcoming Get Physical joints on ya... now for the least impressive YouTubes yet, but with good tunes at least...
To see them from that angle at Coachella, you'd have to be hanging from the roof of the tent... which I have in fact seen people do. Not recommended. 2 weeks 'til the big show... have a lovely weekend!