Day 6 off the cancer sticks, and I haven't cheated once. In the past I've cheated, and let me tell ya, it's much harder when you don't cheat. Just ask Sammy Sosa...
Speaking of which... baseball is back! I know most of you probably don't care, but it feels good just to type...
In Coachella acts...
I'm going to skip past
Okkervil River
, an Indie Rock band from Texas that's neither amazing nor terrible, the absolute definition of "meh"... which brings us to...
The Kills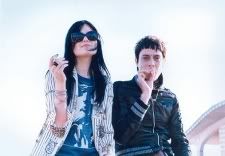 Who they are:
An American gal and a British dude that like to call themselves VV and Hotel... because yeah, that makes a lot of sense.
What they sound like:
It's hard to exactly pin down The Kills' sound. It's guitar & drum machine... sometimes bluesy, sometimes a bit funky, sometimes sounding just like The Pixies. Let's just say it sounds good...
The Kills - Cheap And Cheerful (ysi)

What I think:
The Kills are actually a band I like because of Coachella. I'd never heard of them until my friend Emma dragged me into their set in the Mojave Tent a few years back. And while I went in only because the cute girl wanted me to, I came out quite impressed. Their set up (and songs) may be simple, but they got that certain pizazz you can't fake...
Run, do not walk, to see The Kills. They'll make your pants feel all funny... seriously, The Kills will give you a giant boner. (So much for subtlety...)