Hey, look... bonus post! Like a said, there's still a few people I need to cover before the big set-time announcement happens and I tell you exactly where to be and when, so let's keep pluggin'...
Roni Size Reprazent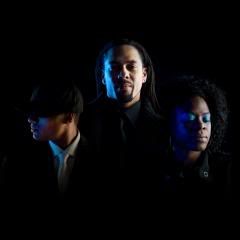 Who they are:
Mr. Roni Size and his assorted peeps. I don't know how many of the original Reprazenters are still reprazenting, though... no idea if Krust and Die are still with him...
What they sound like:
If you think that Reprazents latest release,
New Forms 2
, sounds a lot like their classic, masterpiece, unfuckwiddable
New Forms
, well... that's because it's just a new version of
New Forms
where they made new versions the old songs. Oh there's a new song or two on there, but we won't talk about those... Wow, that was kind of confusing to read, eh?
Roni Size Reprazent - Brown Paper Bag (2008 Re-Edit) (ysi)

What I think:
Wouldn't miss it, although the new show doesn't quite seem to bring the shock & awe that Reprazent, uh... brung to Coachella the last time they played as a full band...
... but hey, you gotta get your Drum & Bass fill from somewhere, right?