Got a minute or two?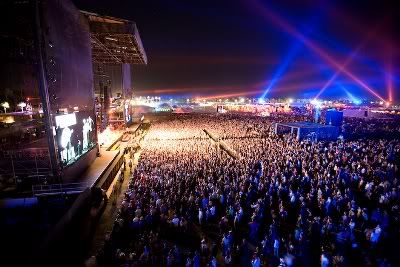 Well, they beat me to it. Coachella released the set times before I could get through all the bands. And since there was really no one terribly obscure left to go (except those upstart whippersnappers, what are they called... The Cures?), I figured it was time to just cut to the chase. So here, without further ado, are my recommendations. I'm going to assume that you are going to show up right at noon each and every day, because that's how you roll if you're hardcore. Follow me and you will have the equivalent of a musical triple orgasm (with cheese)... defy me and perish!
FRIDAY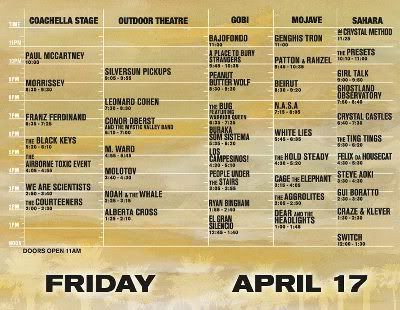 (Click to embiggen)
12:00 - 1:30:
Switch
(Sahara Tent)
- Lemme get this straight... Switch, who spins big loud peak-time skronk House, plays the Sahara at noon in front of, say, 50 people? And then much later in the day the E'd up half-naked gay guys are gonna get Ghostland Observatory? Oh, you say, they can go see someone else then. No they can't. The E'd up half-naked gay guys don't go out into the sunshine. It makes them melt. I don't get it... maybe the Switch guy got a tee time at PGA West at 3:00 that he can't change or something...
1:30 - 2:30:
Craze & Klever
(Sahara Tent)
- This is more what you would think to start the day with... Turntablism antics. Nothing too fast. Bob your head and shit. Get in a party mood...
2:50 - 3:40:
We Are Scientists
(Coachella Stage)
- What a perfect time & stage for these guys. Sure, People Under The Stairs are in the Gobi and Gui Boratto's playing in the Sahara and splitting up this hour could be the way to go, but by now the shirtless dudes are starting to get sweaty. The sun plus some catchy-as-hell Pop before the joint starts to get really crowded beckons...
3:40 - 5:30:
Beer. Grub. Walk around. Check out the Dome. Bang on shit with the hippies. Nothing to see here. Sure you can pop your head in here and there and see what's going on, but there's no one I really give a rat's arse about playing for two hours...
5:30 - 6:20:
The Ting Tings
(Sahara Tent)
- Slightly torn between these guys and Buraka Som Sistema, I'm going to vote for the less shouty and more hot blonde girl-having Ting Tings. But if they suck, you can always switch out. Ain't that beautiful?
6:35 - 7:00:
The Bug
(Gobi Tent)
- My recent obsession with the Dubstep wins out over Franz Ferdinand in a tight one. I only have half the set scheduled here though because Coachella likes to fuck with people who like good music and put all of it on at once.

7:15 - 8:05:
N.A.S.A.
(Mojave Tent)
- Now that I've given the N.A.S.A. album a few spins, I gotta tell ya... it's fantastic. Plus there's gotta be at least a few guest stars... Chuck D., Lykke Li, Karen O. and M.I.A. are all gonna be there and they're all on the album, folks. That sounds like a party to me... plus there's no one else good on now.

8:30 - 9:30:
Morrissey
(Coachella Stage)
- In a mild upset over both Peanut Butter Wolf and Girl Talk, because fuck it, I would like to hear him sing some Smiths songs. Morrissey understands my pain! But, if it's getting to squished up by the main stage or you have to stand so far away you're in Bakersfield, either of the other two would do nicely.
9:45 - 10:10:
Patton & Rahzel
(Mojave Tent)
- You definitely wanna peek in and see what these cats are up to, but it could get a little crazy, and by crazy I mean Mike Patton making noises that make your head explode, not in the good way. If that's the case, just step one tent over to...
10:10 - 10:45:
The Presets
(Sahara Tent)
- Because I don't want to hear "Band on The Run" and because I don't care if Dave Grohl is playing drums... because Dave Grohl plays drums for everyone. After Coachella he's doing 3 nights with my junior high stage band. But you're gonna leave The Presets early to get a good spot for the best act on the bill and an amazing closer to the evening...
11:00:
Bajofondo
(Gobi Tent)
- Really wish these guys were playing outside so I could Tango under the stars. Not that I know how to Tango or anything, but that never stopped me before! And I was only charged with a misdemeanor that time, so it wasn't too bad...
So overall, Friday shook out pretty well. No really horrible scheduling conflicts for us. You never get to see
everyone
you want to see, but we're gonna get in a very high percentage...
---------------------
SATURDAY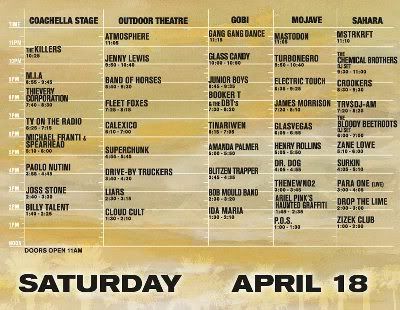 (Click to embiggen)

1:00 - 1:30:
P.O.S.
(Mojave Tent)
- Saturday starts off with a late addition to the bill, Minneapolis rapper P.O.S., who I've never heard of before, but he sounds pretty good...

(GoEar's been broken for a couple days, so sorry... you'll have to download to listen today)
1:30 - 3:00:
Beer. Grub. Walk around. Check out the Dome. Bang on shit with the hippies. Nothing to see here. Except maybe the first song or two from
Joss Stone
, another late add, but really she starts too close to the next one...
3:00 - 3:45:
Thenewno2
(Mojave Tent)
- Because I told you how much I unexpectedly dig George Harrison's kid's band. So I really hope they don't suck live, but if they do, I guess I could go back to Joss...
4:05 - 4:45:
Surkin
(Sahara Tent)
- Because it would be a cop-out to tell you to take another beer break.

5:10 - 6:00:
Spearhead
(Coachella Stage)
- To use a basketball metaphor, because Michael Franti is really tall (and I am that clever), Spearhead vs. the rest of the field playing at this time is like North Carolina vs. Northwest Arkansas Junior College... a blowout.
6:15 - 7:05:
Tinariwen
(Gobi Tent)
- Tough choice over Calexico, but when in doubt, go with the band you have little chance of ever seeing again. Plus, they're kinda awesome, so there's that... I mean, you could go dirge out to TV On The Radio again, but that would make you terribly boring. Do you want your friends to think you're boring?
7:40 - 8:30:
Thievery Corporation
(Coachella Stage)
- As much as I'd like to check out Travis Barker's & DJ AM's burn scars in person, this is another no-brainer. I'd love to show Booker T. some love, since he's a legend and all, but I'll go for the borderline transcendent musical experience. And the sitar. Loves me some sitar.
8:45 - 9:35:
Junior Boys
(Gobi Tent)
- Pickin' these guys over M.I.A. because A) I've never seen 'em and B) after M.I.A.'s by-all-accounts clusterfuck of a set last year, I don't truss a bitch. The main stage seems a little big for her, too, knowhatimean?
9:45 - 11:00:
The Chemical Brothers
(Sahara Tent)
- As much as it irks me that this is only a DJ set, and believe you me it irks me somethin' fierce, the other options are... let's see... crap, crap, crap and the Killers, aka shit. So that's pretty easy, eh? Unless you like shit, in which case you are probably German. Sorry. Couldn't resist. Hey, Germany, you stop makin' Scheisse videos, I'll stop makin' that joke. We got a deal?
11:10:
MSTRKRFT
(Sahara Tent)
- One could make a case for Gang Gang Dance or Atmosphere here, but let's face facts... you're already in the tent, you're already off your tits, and it's a looooong way to the other side of the Polo Fields when your eyeballs goin' all facacta. Trust me on that.
So, scheduling-wise, they did a really good job on Saturday. We missed almost nothing worth seeing and though we started a little "meh", we finished strong. Will the kind scheduling continue on Sunday? Short answer: No.
---------------------
SUNDAY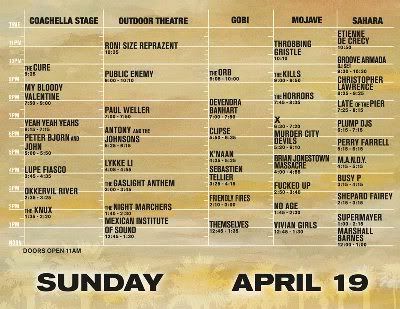 (Click to embiggen)
12:45 - 1:40:
Mexican Institute Of Sound
(Outdoor Theatre)
- If you can actually make it there this early on Sunday, you are truly hardcore. And you will be rewarded with your first trip to the 2nd stage of the weekend. Which is kinda shocking, as so many of my favorite sets in the past have taken place there. And um... nope, that's all I got for that...

2:10 - 3:00:
Friendly Fires
(Gobi Tent)
- I was just listening to this record on the way in to work today and I gotta tell ya I like it more and more with each spin... this is a little early for them to be on, but I'll do what I gotta.
3:25 - 4:15:
Sebastien Tellier
(Gobi Tent)
- I skipped over this dude a few posts back for time, but lucky for him, the schedule has played out such that he's the only good act on during this time period so go check him out. The new record was produced by Guy-Manuel of Daft Punk, btw...
Sebastien Tellier - Kilometer (ysi)

And depending on how that goes, you may or may not want to leave early, step outside and over to...

4:05 - 4:55:
Lykke Li
(Outdoor Theatre)
- This is a tough call over K'naan & M.A.N.D.Y., but that's what I'm here for, folks, to make the tough calls so you don't have to. But hey, if she sucks, you got options. 'Tis the beauty of Coachella. That and the pretty mountains... and the boobies in bikini tops.
4:55 - 6:15:
Beer. Grub. Walk around. Check out the Dome. Bang on shit with the hippies. Nothing to see here. Maybe Peter, Bjorn & John, but really you should charge up because there's gonna be some trekkin' in your near future. And I'm not talkin' about Star Trek. Of course, I doubt you thought I was talkin' about Star Trek. Why would I be? Makes no sense.

6:15 - 7:15:
Plump DJs
(Sahara Tent)
- With all due respect to the Chems, this might be the best DJ set all weekend. Yeah, I'm just bitter the Chems aren't playing live, I know...
7:50 - 9:00:
My Bloody Valentine
(Coachella Stage)
- Prepare to get your face melted, your eardrums pulverized and your brain deep-fried... that's all I have to say about that.


9:00 - 10:00:
Fuck.
(Outdoor Theatre/Gobi Tent/Mojave Tent/Sahara Tent)
- They do this to you at least once every year, the bastards. Put all the bands you most want to see on at the EXACT SAME MOTHER-LOVIN' TIME!
Public Enemy
,
The Orb
,
The Kills
and
Groove Armada
's DJ set. Eat a bag of dicks, Goldenvoice. I have no idea what to do, but hey, here's an Orb-scure remix for ya to enjoy while I beat my head against the corner of my desk repeatedly...
The Orb - Little Fluffy Clouds (Heavyweight Dub) (ysi)

10:50:
Etienne De Crecy
(Sahara Tent)
- And we cap it all off with the CUBE. Sweet!
So there you have it, folks. That's my $0.02. I hope you've enjoyed this year's unfortunately condensed version of Blog-achella. If any of you were to actually follow this schedule, let me know how it works out for ya... oh, and you owe me $0.02. Tomorrow, Tonegents will resume regular programming... i.e. nothin' but good shit 'til the cows come home. Cheers.