Ola, everyone! And welcome to the 700th post of the Tonegents Interwebs Music Blog & Friday Fish Fry. I'm frankly shocked that anyone reads this crap, but with well over 125,000 page views now, obviously there are a lot of folks out there that have extremely low standards and/or nothing better to do. So here's a mix for you to waste some more time listening to...
You may not be able to tell from looking at the song titles, but this mix has a bit of a Latin angle to it. From vintage Fania Salsa, through Boogaloo, Descarga, Latin Funk and right on into some of the newest Broken Beat biznezz, we're gonna stop in Puerto Rico, Cuba, Panama, Colombia and even Belize, wherever the hell that is. (Just kidding.) Expect ridiculous horn charts, guys in matching suits singing in high voices and enough freaking cowbell to satisfy Christopher Walken himself... this is sabor caliente! Possibly. I don't know a damn word of Spanish. Hope none of these songs are about raping kittens...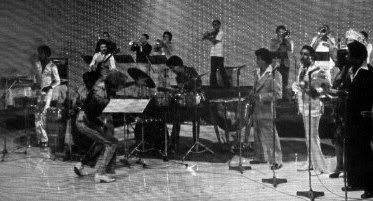 Tonegent presents "Musica Del Scorcho"



(Continuous Mix - 68:32 - 94.12Mb @ 192kps)


1) Eddie Palmieri & His Conjunto - Conmigo
2) Willie Colon - Abuelita
3) Fruko Y Sus Tesos - Improvisando
4) Jesus Acosta & The Professionals - Guajida
5) Los Superiores - Descarga Superior
6) The Latinaires - Creation
7) Tempo 70 - El Galleton
8) The Ray Camacho Group - Si Se Puede
9) Roberto Roena - Que Se Sepa
10) Bwana - La Jurumba
11) Los Fabulosus Festivals - El Mensaje
12) Juan Pablo Torres Y Algo Nuevo - Y Viva La Felicidad
13) Ray Barretto - The Soul Drummers
14) Quantic And His Combo Barbaro - Mambo Los Quantic
15) Deadline Vs Batacumbele - Batacumbele
16) Afronaut - Golpe Tuyo Calinda
17) Novalima - Tumbala
18) Tito Puente - Machito Forever (Cut Chemist Remix)

Enjoy!